.
THE WAY THINGS ARE:
With the stroke of his pen, Biden has driven his pledge of "Unity" into the ground. In just a short period of time, Biden's Executive Actions have STIFLED our economy, KILLED jobs, and ENDEDprotections for the unborn. 
Ending the Keystone Pipeline, killing thousands of jobs 

Supporting Taxpayer funded abortions in foreign countries 

Rejoining the disastrous Paris Climate Accord 

Halting of construction on the Southern Border Wall

Rejoining the China-Influenced World Health Organization    
Blow after blow, Biden's Executive Orders prove that Joe Biden will not be a President to "unify" this country. Instead, Biden and the Left choose to placate our adversaries over providing aid to the hard working American People. 
One thing is clear. Under Biden, Americans come LAST.   

Joe Biden has spent more time and energy on defining a pathway to citizenship for ILLEGAL Immigrants than he has on providing relief and aid to struggling AMERICAN CITIZENS. Through disastrous Executive Orders, Biden has laid out his immigration plans for us all to see.
HALTING Construction of the Southern Border Wall

Placing a 100-DAY moratorium on deportations 

Laying out a path to citizenship for MILLIONS of ILLEGAL Immigrants 
Can you believe it?  
"...we don't see no steenkin' wall"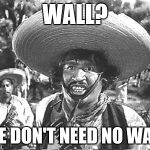 Joe Biden admitted that he is putting illegal immigrants BEFORE American students.

He STILL doesn't care that our Nation's students are falling behind, but he DOES have time to come up with a plan for blanket amnesty.

It's time for Patriots to DEMAND that Joe Biden stop prioritizing illegal immigrants and safely reopen our schools.
Biden and the Radical Left will leave our Country susceptible to MASS ILLEGAL IMMIGRATION and create OPEN BORDERS, the likes of which we have never before seen. We MUST step up and stop them.
In the all too familiar words of Biden's Press Secretary Jen Psaki, let's "circle back" to ALL the failures of the Biden Presidency thus far. 
FAILING "Unity" Pledge in favor of Partisan Executive Orders
FAILING to Deal with School Reopening in favor of Liberal Teacher Unions
FAILING to Protect and Defend American Citizens in favor of Blanket Amnesty
FAILING to Get Americans Back to work- instead killing jobs through radical environmental action 
Enough is enough! At a time when our Country's health, economy, jobs, and children should be the primary focus of the President, Biden has FAILED to take action on ANY in favor of appeasing the RADICAL LEFT.
The Biden Administration is putting policies in place that are hurting the American People. Period.

In such a short amount of time, we're already seeing plans that will bankrupt our country and stifle our economy. 
Biden has taken away THOUSANDS of American jobs 

We have rejoined the disastrous Paris Climate Agreement

Biden has STOPPED the Keystone Pipeline

Biden has HALTED the construction of the Southern Border Wall

Biden is FILLING THE SWAMP with corrupt cabinet members
To be clear, Republicans' mission these next two years is to not only expose the Biden White House for their radical agenda and hold the Democrats accountable, but we also plan to recapture the House AND Senate in 2022. 
.
"...this is a HOLDUP! "
 .
CLICK HERE:
http://tpartyus2010.ning.com/profiles/blogs/support-for-third-indep...
.
RAYA @ REAL CONSERVATIVES
SUPPORT
REAL CONSERVATIVES 
Order our book!
$ 9.95
INSTANT DOWNLOAD
TO ORDER
CLICK HERE:
http://www.lulu.com/shop/raymond-athens/right-side-up/ebook/product...
......
.