Then . . . .would you pay $30.00 for a Hot Dog from a muslim vendor?
`
Meet Ahmed Mohammed. He might be the most expensive hot dog vendor in New York, especially if he thinks you're a tourist.
NBC 4 New York cameras recently captured him trying to charge a man named David $15 for a hot dog and a pretzel near the World Trade Center.
"I said, 'What are you, a crook?'" David later told NBC 4 New York. "I'm not a tourist, so I know the price in New York."
Customer after customer recounted how the vendor tried to charge them $20 to $30 for a hot dog.
"I just felt like I was getting ripped off, and it's just making the 9/11 grounds like a big tourist trap," one woman said.
Ben from New Jersey left his bitten hot dog behind when he was told the price.
"He was like, 'Fifteen, maybe 10,'" he said. "And I left my bitten hot dog there. That was it."
Jessica Lappin of the Alliance for Downtown New York said "it gives New York a bad name."
"To rip-off somebody, to charge them $35 for a hot dog and a pretzel, that leaves a terrible impression," she said.
Lappin learned about Mohammed when fights started breaking out last week over his prices.
Ron Wolfgang, who is in charge of security for the Alliance for Downtown New York, said, there have been "five times since May 13 where we've observed altercations on the street over the prices being charged for hot dogs, pretzels, water, soda."
NBC 4 New York's own cameras captured the price of a hot dog changing by the minute: $3 for some, $30 for others.
Several customers also accused him of short-changing them after overcharging them. One woman pointed out that he had only given her $5 in change when he was supposed to hand her $8; another woman said he didn't even give her change at all.
One woman named Ruth said, "He gave me $5 back, and I thought, '$15 for a pretzel and a water?'"
When a self-identified NBC 4 New York reporter asked the price of a hot dog, Mohammed said $3. When asked why the price changes, he claimed not to speak English -- even though cameras had captured him speaking English earlier, asking customers: "Yes, guys. Yes, sir, you need anything to eat or drink? Have a good day, guys."
Part of the problem is that Mohammed's prices aren't posted, as required by the city's Department of Consumer Affairs. At a hot dog cart around the corner, for example, there's no question how much a hot dog costs -- it's listed at $1.
The Department of Consumer Affairs encourages anyone who is charged more than the posted price -- or encounters a stand with no price listed at all -- to file a complaint at nyc.gov/consumers or to call 311.
In the meantime, the department says it will investigate Mohammed and his practices at the stand.
Published at 10:43 PM EDT on May 19, 2015
`
`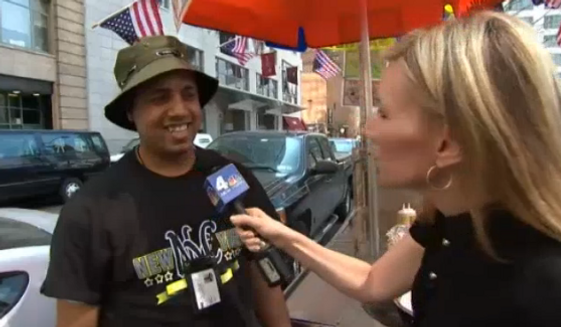 `
`
`
`
`
`
`
New Yorkers won't pay a muslim $30 bucks for a Hot Dog,
but they'll vote for Hitllary in a Heartbeat!