ISIS Holds Massive Military Parade in West Anbar Celebrating Victory in Ramadi … hey Obama!
(Where's the Coalition?)
Posted by Jim Hoft on Monday, May 18, 2015, 7:57 PM GATEWAY PUNDIT
`
`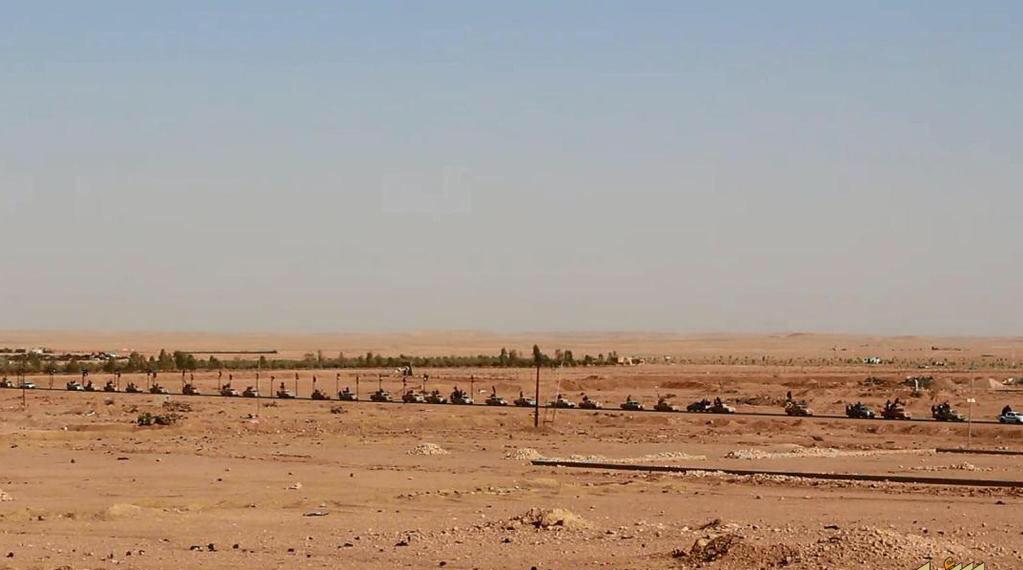 `
`
`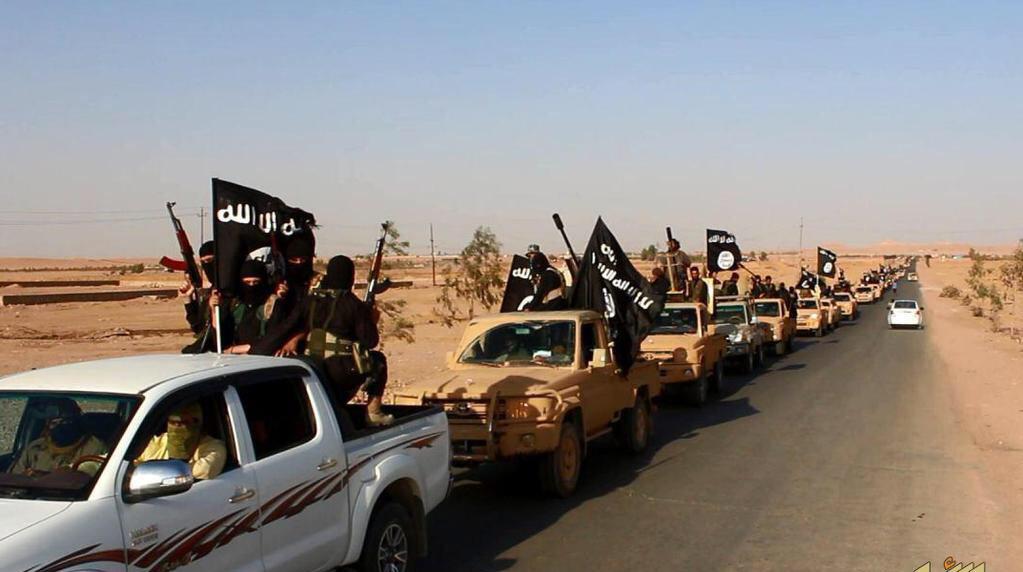 `
`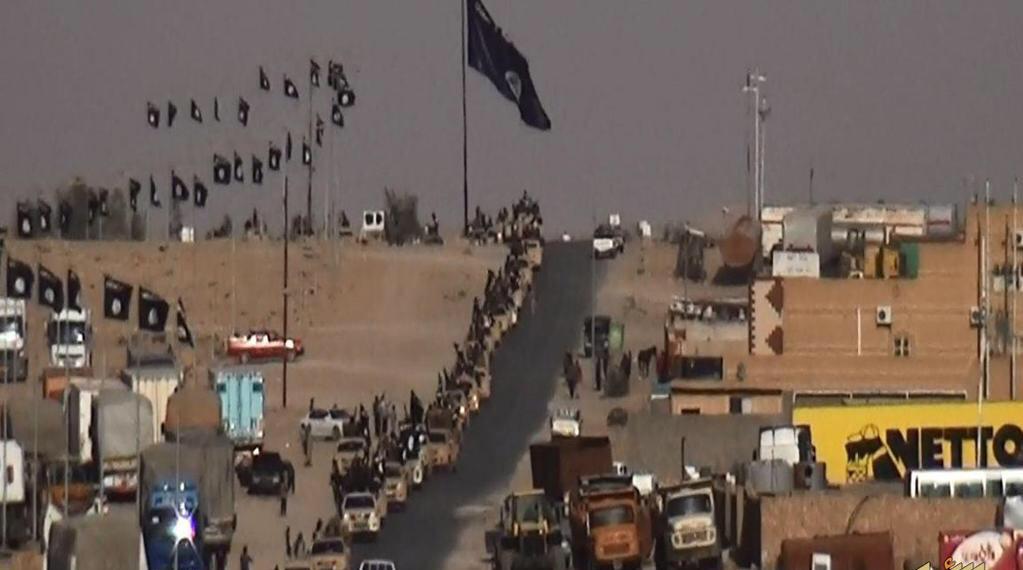 `
`
`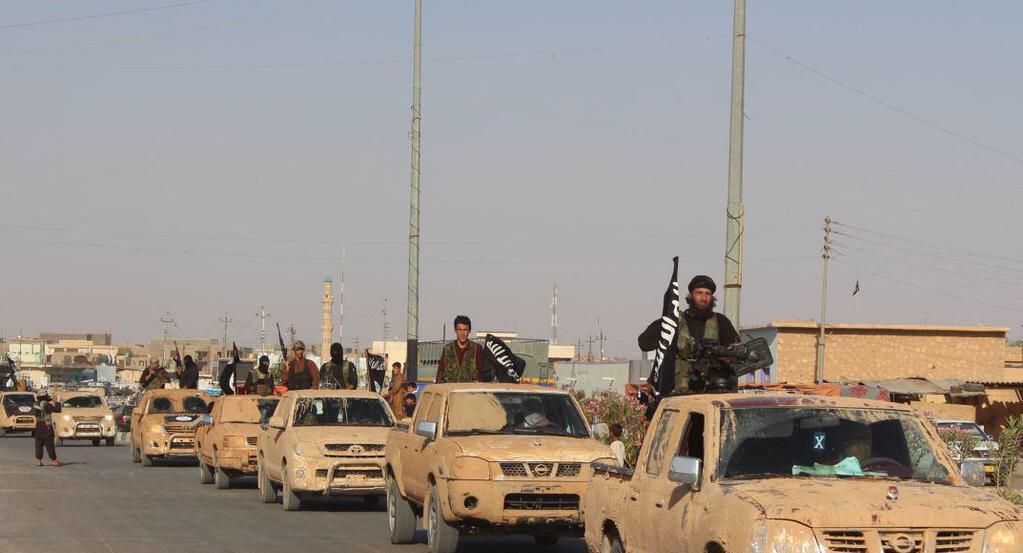 `
`
``_______________________________________________________________________________________________
The ISIS advances came after militants detonated a series of morning car bomb blasts, Mayor Dalaf al-Kubaisy and a high-ranking Iraqi security official said. The explosions forced Iraqi security forces and tribal fighters to retreat to the city's east, they said.
But Iraqi and U.S. officials said Sunday that the fight for Ramadi is far from over.
Clashes have raged in the beleaguered capital of Anbar province, Iraq's Sunni heartland, for months as Iraqi and allied forces battle ISIS militants for control of the strategically located city, which is just 110 km (70 miles) west of Baghdad.
Ramadi, the largest city in western Iraq, is situated just a few miles from an Iraqi army headquarters that ISIS blew up in March.
ISIS took over parts of the city in the first half of last year, placing it at the heart of a deadly tug of war ever since. Officials in Ramadi have repeatedly warned of ISIS advances in recent weeks, begging for reinforcements and more airstrikes from the U.S.-led coalition against ISIS.
Officials estimate that more than 500 people have been killed in the most recent clashes, said Muhannad Haimour, a spokesman for the Anbar governor. A new wave of civilians was fleeing the city Sunday, heading toward safer areas such as Baghdad; some of them were trapped on a bridge out of the city, he said, as fighting raged around them.
Even as ISIS took control, pockets of resistance remain inside the city, Haimour said.
While ISIS declared victory and claimed full control of the city, the Iraqi Federal Police vowed to stamp out ISIS in the region. In a statement, police said Lt. Gen. Raid Shakir Joudat was on the way "commanding a huge force consisting of various weapons to cleanse Anbar province from terrorist gangs."
State TV: Iraqi forces on the way
Iraq's Prime Minister, Haider al-Abadi, is also preparing to send in reinforcements, according to a statement read on Iraq's state-run Iraqiya TV Sunday.
He's ordered the Hashd Al-Shaabi paramilitary force to prepare for deployment against ISIS militants in Anbar province. It will be joined by Iraqi security forces and Sunni tribal volunteers. The decision to mobilize the paramiltary force, which is Iranian-backed and predominantly Shiite, follows a request for help from the Anbar provincial governor, provincial council, tribal leaders and religious clerics.
The Shiite militias helped the Iraqi army retake the city of Tikrit from ISIS in March. But their involvement raised concerns that it could inflame sectarian tensions, and their ties to Iran complicated the use of airstrikes by the U.S. coalition.
After the fall of Ramadi, the Iraqi Defense Ministry urged the people of Anbar to show "fortitude and steadfastness," saying reinforcements from the militias are on their way. The ministry also called people to "jihad" against ISIS, urging them to mobilize and join the fight against the militant group.
ISIS, meanwhile, said that mosques in Falluja were calling for prayers to celebrate its capture of the city.
On Thursday, ISIS pushed into Ramadi, using armored bulldozers and at least 10 suicide bombings to burst through gates and blast through walls, according to a security source who has since left the city.
Dozens of militants followed them into the city center and ISIS raised its trademark black flag over the provincial government building.
On Friday, the United States announced that it was "expediting" weapon shipments to Iraq because of the current fighting in Ramadi.
What are the implications of an ISIS takeover?
Whether or not Ramadi will stay in the hands of ISIS remains to be seen, analysts said Sunday.
Some U.S. officials have tried recently to downplay the significance of Ramadi, saying they are not focused on the city.
Pentagon spokeswoman Cmdr. Elissa Smith said Sunday that officials have long known the fight in Anbar province would be long and difficult.
"The loss of Ramadi does not mean the tide of the campaign has turned, and we have long said that there would be ebbs and flows on the battlefield," she said. "If lost, that just means the coalition will have to support Iraqi forces to take it back later."
But retired Lt. Col. Anthony Shaffer, a senior fellow at the London Center for Policy Research, said the situation in Ramadi is a significant sign that forces fighting ISIS need to take a different tack.
"Ramadi's a bad news story, period," he said. "It's not going well. The military units we've trained in the Iraqi army are basically laying down their guns and running."
But the significance of the city falling may have less to do with the militant group, and more to do with the strength of Iraqi forces, CNN counterterrorism analyst Philip Mudd said.
"This is not about ISIS. This is about whether the Iraqi military has the capability, and more importantly, the will to face up with ISIS," he said. "They've had some successes, the military has. This is a setback. It's going to take years to figure out who will prevail."
But Haimour, the Anbar governor's spokesman, said it's unfair to paint Iraqi forces as unwilling to battle ISIS. Iraqi forces fought hard in Ramadi, he said, but faced well-trained ISIS fighters with heavy weaponry who were on a suicide mission.
"They come to Anbar and Iraq to die. It's very difficult to stop a bulldozer that's been armored, driven by a suicide bomber, with tons of explosives," he said. "And dealing with these fighters has been extremely difficult. It's not a conventional war by any stretch of the imagination."