"Fight like an Egyptian":


Fomenting for Marxist Revolution on July 4
 - Judi McLeod  Monday, June 27, 2011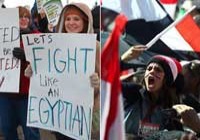 Mercifully deader than the proverbial door nail, Karl Marx will be dug up for '
Socialism 2011 Revolution in the Air
' on July 4th this year.
While most Americans will be celebrating Independence Day, an expected 1,500 socialists, some sporting Marx is back! and Che Guevara T-shirts will foment for revolution at The Crowne Plaza Hotel & Conference Center near Chicago's O'Hare International Airport. 
The July 4 date is deliberate.  According to Revolution is in the Air sponsors the Center for Economic Research and Social Change:  "This year, the conference will take place from Friday through Monday (instead of Thursday through Sunday as in previous years) to take advantage of the July 4 holiday falling on Monday."
Chicago's Crowne Plaza Hotel is ponying up a special parking rate of "$5 a day for conference attendees".  Patriotic Americans visiting relatives in the Windy City can fend for themselves.
"Let's fight like an Egyptian" is the rally call for Socialism 2011 with featured guests including Ali Abunimah, Anthony Arnove, Omar Barghouti, Todd Chretien, Paul D'Amato, Arun Gupta, Elizabeth Wrigley-Field, Dave Zirin and John Carlos and Paul LeBlanc to mention just a few.
This is how 1968 Olympic bronze medalist Dr. John Carlos, who raised the Black Power salute, rates past Socialism Conferences: "The young people at the conference took me back in time to when you were ready to stand for what was right.  It lets you know that what you may have planned years ago will come to reality today.  I feel great to have become a part of it."
According to socialist and author Paul LeBlanc, "Socialism conferences are exciting gathering places for students and young activists, for revolutionary scholars and fighters for social justice, to share ideas and experiences that can help us understand and change the world.  I've been to a couple­it's not enough.  I'm coming again."
With Obama in the White House, Socialist revolutionaries are on a roll, openly taking credit for what is happening in Europe and in the so-called "Arab Spring".
"Everywhere we look in the world there are revolutions and struggles that are challenging dictatorship, economic inequality, and oppression," is the message on their home page.  "From Cairo to Madison, these struggles show us that "another world is possible".  But they also raise questions about what ideas, strategies and tactics are necessary to carry the struggle forward.
"Join us for more than 100 talks on topics such as: Capitalism, Climate Change, and the Future of Humanity, Obama and Black Politics, Is a second Recession Coming?, Breaking the Siege of Gaza, Is Human Nature a Barrier to Socialism?, The ABC's of Marxism, Can a Revolution Happen Here?"
You won't hear strains of the Star Spangled Banner coming from Chicago's Crowne Plaza Hotel on July 4, nor see patriots proudly displaying Old Glory.
To Obama's friends the socialists openly fomenting for revolution there is no such thing as July 4.  And as far as they're concerned in due time no America the Beautiful either.
http://canadafreepress.com/index.php/article/37935