.
...and a tip of the hat to
REAL CONSERVATIVES Member
HELEN
.
GREETINGS
Fellow Citizens
Governor of Florida, Ron Desantis,
has signed the order to abolish
Common Core
from Florida's schools
by 2020
This has been a long, hard fought struggle
by dedicated Patriots such as
REAL CONSERVATIVES Member
HELEN,
who went so far as to run for election
to her local school board.
Even though she lost that battle,
she was one of the precious leaders
who, ultimately, won the War.
We applaud you, HELEN, for your
fearless tenacity in the struggle
for the Soul of our Nation,
and in particular, that of our Youth,
our POSTERITY.
.
HELEN
.
God Bless America
Your Uncle Sam
.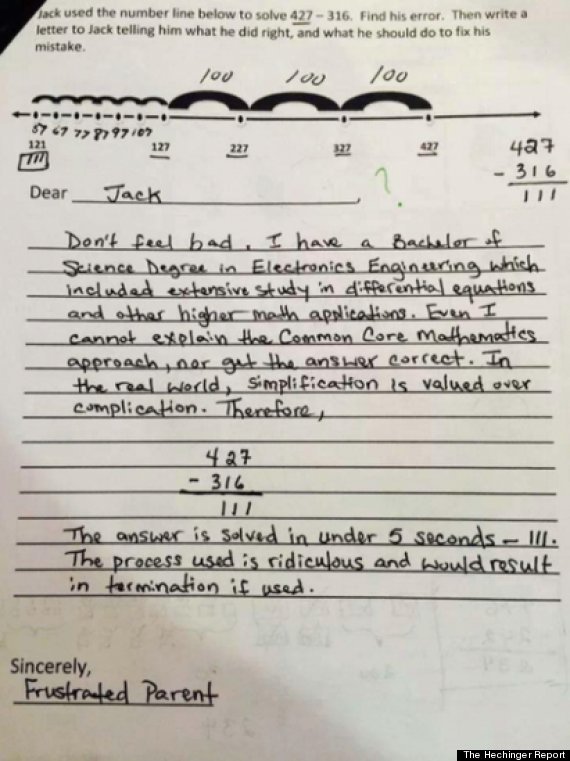 **  " Good news for family values: "
Parents who really care about their children's intellectual development were never fooled by the
esoteric agenda behind the "liberal, progressive"'s insentient, insidious promotion of the confusing
" COMMON CORE METHODOLOGY "
Namely:
In their constant attempts to undermine the basic family unit, they have attacked 
Traditional Family Values on every front. Parents helping their children with their
homework after school has always been a focal point for parent-child bonding.
When the methodology of teaching Math is made so deliberately confusing
as to BAFFLE both parents and child it discourages that all important bonding
and undermines and further erodes the family unit.
For parents, in sheer frustration,  to surrender their parental duties to an all-knowing,
all powerful mystic force (the school board) that in reality aims to corrode family cohesiveness
with the required, yet inscrutable, Mumbo Jumbo curriculum, it is a form of capitulation.
That is the goal of these left-wing so-called elitist geniuses, where the end justifies the means.
They long struggled to "Poison the well" of a vibrant, viable institution, education,
by "dumbing down" our youth, and, therefore, the nation's Posterity, erasing our history
and our Heritage. But the parents of the State of Florida fought back,
and, over several years, finally prevailed!
The elitists have been routed! Their esoteric purpose is to destroy the very processes
of Critical Thought. It is no wonder that the typical, modern day brainwashed Harvard Grad
seems to be more of a buffoon, rather than an erudite. Hooray for Mom and Dad!
Now, BOYCOTT those institutions of "higher learning" and DEMAND higher standards!
Just as "...the Pen is Mightier than the sword", the Checkbook,
in this case, is mightier than the Community Organizer!
~~~~~
.
Math:

For as long as I can remember, I have loved math. This really works! It will take you only about ten seconds and, amazingly, it will reveal your all-time favorite movie.

I'm pretty good at math, so I did it in my head, then on paper, and finally on a calculator just to confirm my mathematical calculations. Each time I got the same answer, and sure enough, it IS my very favorite movie...EVER!  DO NOT cheat. DO YOUR math,
THEN compare the results on the list of movies at the bottom.
You will be AMAZED at how scary true and accurate this test is:

1. Pick a number from 1-9.

2. Multiply that number by 3.

3. Add 3.

4. Multiply by 3 again.

5. Your total will be a two digit number.
Add the first and second digits together to find
your favorite movie (of all time)
in the list of 17 movies below:

Movie List:

1. Gone With the Wind

2. E.T.

3. Blazing Saddles

4. Star Wars

5. Forrest Gump

6. The Good, the Bad, and the Ugly

7. Jaws

8. Grease

9. The Nancy Pelosi Resignation Speech

10. Casablanca

11. Jurassic Park

12. Shrek

13. Pirates of the Caribbean

14. Titanic

15. Raiders of the Lost Ark

16. Home Alone

17. Mrs. Doubt fire

... Now, isn't that something?
This is what our kids are being taught in the schools here in California. I just watched this video with my kids for an assignment they have to do. Luckily they know enough to realize it's complete horsesh$t.
They are basically being brainwashed to believe that China's communist system is better than America's democracy. Tell that to the tens of millions of Chinese who moved here to get away from that country.
*****
BOTTOM LINE:
When Richard Nixon met with you
things changed
*****
" Hello there! Hoping you have enjoyed
   REAL CONSERVATIVES as much
   as I have enjoyed bringing it to you! "
   - Ray A @ REAL CONSERVATIVES
.
SUPPORT
REAL CONSERVATIVES 
Order our book!
$ 9.95
INSTANT DOWNLOAD
TO ORDER
CLICK HERE:
http://www.lulu.com/shop/raymond-athens
/right-side-up/ebook/product-17358205.html
~~~~~~~~
.