December 27, 2013, 03:40 pm
Ted Cruz: 2013 Person of the Year
By Rick Manning THE HILL
`
No politician had a greater impact on the past year than freshman U.S. Sen. Ted Cruz (R-Texas). Cruz came from the Lone Star State not owing the D.C. political establishment anything, after he beat the chosen replacement for Kay Bailey Hutchison in an underfunded, grassroots driven Republican primary election.
Using his historic first speech on the Senate floor to support Kentucky Sen. Rand Paul's quest to force the Obama administration to agree not to use drones to kill Americans on American soil, Cruz showed he would sacrifice personal glory for the cause of liberty. By helping shine a constitutional light on the Justice Department's unwillingness to unequivocally declare that the federal government cannot just send a missile through the windshield of American citizens driving down I-95, Cruz chose to take his first stand on a seemingly esoteric, but important, constitutional issue.
Of course, Cruz made his biggest mark when he and fellow freshman Sen. Mike Lee (R-Utah) led a last-ditch national grassroots effort to defund ObamaCare before the law went into effect fully. Imagine how many Senate Democrats wish right now that they had heeded Cruz's entreaties and agreed to delaying or defunding it for one year. Now, they are stuck with the law and all its consequences.
Since the short federal government shutdown, Americans are coming to the conclusion that ObamaCare was sold through a series of lies, and they are not happy. Fear of losing coverage, fear of significantly increased healthcare costs and fear of losing the doctor/patient relationship have become the table topic in households.
These households know that Republicans, because of Cruz and Lee, did everything possible to protect America from the impact of ObamaCare.
Incredibly, the handwringers in the Republican Party will be the beneficiaries of Cruz's determination, intelligence and guts. Yet those same elected and unelected D.C. operatives will never forgive the Texas senator for showing their half-hearted opposition to the law for what it was and forcing the issue.
It is this willingness to use whatever power he is entrusted with to protect Americans from the ravages of big government that has made Cruz a hero among thinking outside the Beltway Republicans.
It is this exact same quality that has made him an anathema to inside the Beltway Republicans, who are intimidated by his unique combination of intelligence, education and fierce determination to do what is right, regardless of which power broker's cage gets rattled.
And it is this quality that the establishment Republican class is mounting a campaign to defeat in 2014 primary elections. Fearing a wave class of new Republicans emboldened by Cruz's enthusiasm and integrity in fighting for personal liberty, their limited-government veneer has been cast away.
Cruz created a new plum line for those who claim to carry the limited government mantle, and in one short year he has done more to change the landscape of American politics than most of the careerists do in a lifetime. That is why he is 2013 Person of the Year.
Manning (@rmanning957) is vice president of public policy and communications for Americans for Limited Government.
`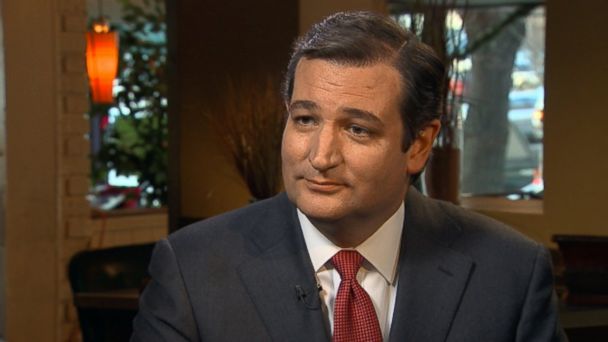 `
In an exclusive interview with ABC's Jonathan Karl for "This Week," firebrand conservative Sen. Ted Cruz, R – Tx., expressed no regrets over his role in this fall's government shutdown, placing the blame for the 16-day closure squarely on the shoulders of Democratic leaders.
"I think it was absolutely a mistake for President Obama and Harry Reid to force a government shutdown," the freshman senator said when asked if pushing the strategy linking funding the government to the funding of Obamacare was a mistake,
When reminded by Karl that even Republican House Speaker John Boehner took conservative groups to task for pushing a faulty strategy, Cruz said "I can't help what other people say."
Cruz did find a receptive audience for his shutdown strategy among House conservatives, whom he secretly strategized with during the shutdown at the Capitol Hill Mexican restaurant Tortilla Coast. He joined Karl there to discuss his first year in Congress after being named a 2013 "This Week" game changer.
"The conservatives who met here at Tortilla Coast, who met repeatedly and continue to have conversations, what we're trying to do is listen to the American people, listen to those over two million people who were saying, this thing ain't working," Cruz told ABC News.
Cruz has been the recipient of ire from both Democrats and Republicans — he was famously called a "wacko bird" by Sen. John McCain of Arizona — during his first year, but he insisted that his focus was not on being liked in Washington.
"What I want to do is to serve 26 million Texans, I want to do my job. That's really my focus," Cruz said. "Nobody should be surprised, if you're trying to change Washington that the Washington establishment pushes back."
Cruz described being on the list of runner-ups for Time magazine's Person of the Year (the honor went to Pope Francis, another "This Week" game changer) as a "very strange thing." He was also asked by Karl about a new coloring book that features the Texas senator, another sign of his rising profile.
"If ever there were a sign that the world is a crazy place, that is it," Cruz said of the book, currently the top-selling coloring book on Amazon.com. Cruz added that, contrary to an assertion made in the book that millions of people think Obamacare is worse than any war, the president's signature legislation is "of course" not worse in his view.