.
SHIT
...hitting FAN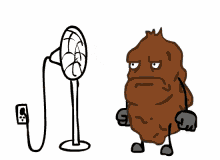 ed. note:
The word, "shit" is derived from the acronym
of the phrase  " Special Handling In Transit "
When old England ships would transport 
cow manure, the cargo was stamped
S. H. I. T. - Special Handling In Transit
to put cargo handlers on notice of the
hazardous nature of the cargo.
However, in the context of this posting
we use the word synonymously to describe
the P. O. S.,   a. k a. ,  Alec Baldwin
(...all tongue in cheek, of course )
...get my drift?
ALERT: Fans in danger
" Trump Derangement Syndrome " victim, Alec Baldwin
...this P. O. S. hits one of his FANS:
.
.
AND
...another liberal cries for the "children"
then
POOPS HERSELF
ACTUAL BERNIE SANDERS
CAMPAIGN POSTER
...why the "H" word is rejected
and the "F" word banned
Which crime are you talking about?
There's so many to choose from...
Whitewater Racketeering
The Bodyguard murders
Uranium One
Obstruction of Justice
The Haiti Ripoff
Sedition
Treason
Extortion
Email Gate
Vince Foster
Seth Rich DNC
The Clinton Foundation
Benghazi
" ...I was ROBBED! "
YEAH, SURE...and Stacey Abrams and Andrew Gillum are the
REAL GOVERNORS of Georgia and Florida
...SHUT UP, KAMALA
and what's with the phony Afro affectation, hmmm??
.
.
" ...WE was ROBBED! "
*****
" Hello there! Hoping you have enjoyed
   REAL CONSERVATIVES as much
   as I have enjoyed bringing it to you! "
   - Ray A @ REAL CONSERVATIVES
SUPPORT
REAL CONSERVATIVES 
Order our book!
$ 9.95
INSTANT DOWNLOAD
TO ORDER
CLICK HERE:
http://www.lulu.com/shop/raymond-athens
/right-side-up/ebook/product-17358205.html
~~~~~~~~
*****