.
The approaching
KRAKEN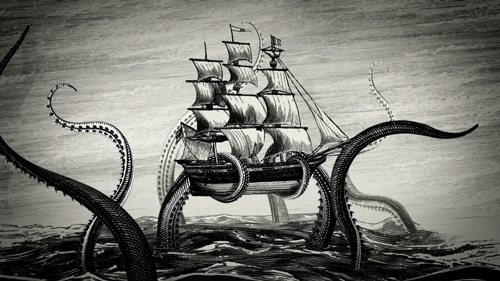 ...and now begins
the DENOUEMENT:
11/16/20: Trump breaks three week silence:
.
note- the Audio aspect of the following
improves at about 3 minutes into the entire video
...have you LISTENED?
WHAT HAVE YOU LEARNED?
(COMMENT BELOW)
DEAR READER,
I wrote the following 
over five years ago.
...were you paying attention?
SWINDLE THE VOTE,
OVERTHROW ORDERED LIBERTY
RESULT:
CHAOTIC ANARCHY
.
.
The liberal progressive communists have nearly....(nearly), managed to destroy the foundations of the American republic, which was founded 240 years ago,in 1776. Their efforts span over a century in time, and over at least three generations. Their overriding methodology has been to follow a patient, covert war of attrition against the Founding Principles. They, with little or nothing themselves to actually lose, have had the luxury of following this destructive path, relentlessly, and can afford to "win a few, lose a few" in their overall crusade against democracy and ordered Liberty.

Their tactics have ranged from incitement of civil unrest, student demonstrations, subtle, subliminal media manipulation, infiltration, etc., to outright rioting and armed resistance. In recent history, however, they have actually discovered the Rosetta Stone of Marxist dogma upon which is inscribed the formula for their dream of world dominance. It is the "Holy Grail" they have long sought in their quest for absolute power:

That dream...is revolution through (perceived fair) democratic elections.

They have finally found the means by which they can impose their illogical ideology upon the masses, without firing a single shot, or spilling a drop of blood.

And even though their ideology is, as aforementioned, illogical and unworthy of serious application by an informed electorate, they have discovered how to defeat all reason and win elections, anyway. But it is not through an honest and transparent election process. It is through a corrupt, oblique and obscure election process, which is called "electronic" balloting. Esoteric balloting.

An honest, transparent electoral process can only be achieved through the use of physical, tangible ballots which can be counted (and re-counted if necessary). PAPER BALLOTS. These are ballots that can actually be counted in an open, transparent manner, and which can be witnessed by all concerned parties who have a stake in any particular matter. It is then, and only then, that the ideas of free men can prevail in a law-abiding society where respect for the principle of Majority Rule is abided, universally. This is called Ordered Liberty.

The electronic ballot, on the other hand, is fraught with the potential for fraud. It relies on a deference to a single class of individuals whose very knowledge of the necessary technology places them above the average person, the voter, whose very Liberty is at stake and on the line. When that precious Liberty, which is affirmed by our right to vote, has been subordinated to an elite class possessing specialized knowledge of the method of counting votes, then Liberty has already been lost. It has been subjugated by the very citizenry who condoned and allowed the situation to arise. We have already forfeited our Liberty by allowing this potential danger to democracy to exist.

Anyone with ten fingers and toes can count. Therefore, the method of counting votes should be just that simple. It cannot be delegated to an elite class of people commonly known as nerds, or geeks. Nerds and geeks can be corrupted. They are only human. They can be either blackmailed or bribed. They are only human. In the final analysis, the ability to count the actual ballots cast must remain with the common man, not with an elite class. If we are to lose our Liberty deliberately, through either apathy or acquiescence, that decision should be there for all to see, in the open. Given the enormous potential for massive fraud, it is idiotically foolhardy, at the very least, to even bestow upon any such election the halo of "fairness", or to perceive any suggestion of integrity. Yet, incredibly, we, like sheep, have allowed ourselves to be led, willingly, to the slaughter of one of our most sacred institutions, the right to vote.

Before computer technology slowly crept into virtually every aspect of our lives, this is how voting worked:

• Local, NEIGHBORHOOD voting precincts were established, with very local people, YOUR NEIGHBORS involved in their day to day administration.

• There were paper ballots printed, and in many jurisdictions, three ply carbon papered ballots. The original would be placed in a locked ballot box on election day. The yellow copy would be placed into a separate locked verification box, to be opened and used to match up with the count of the official ballot box, should there be a re-count declared. These yellow copies had only the registered number of that person's individually issued ballot, with the name blocked out.

• The pink copy was the voter's copy, for purposes of identifying him or her at any re-count site, to insure that the principle of ONE MAN, ONE VOTE was preserved. There was no opportunity for johnny-come-lates to contaminate the voter pool after the fact.

• Recounts, when demanded, were called and all interested parties would show up at the precinct from which his vote was cast, at an appointed time and day, and the votes from that precinct's locked ballot box were recounted in public view, verified by the yellow copies, and the final results were then posted and entered into the county-wide count. There was no room for fraud and the results were final. Citizens, respecting the majority rule of law, abided by those results even if they disagreed with those results. ORDERED LIBERTY. We were consoled by the knowledge that there would be other free elections in the future, in which we could re-visit our grievances.

No such opportunity exists in an environment of electronic voting. We must accept the officially proclaimed result of an election, even though the integrity of the very process that produced that result was vulnerable to fraud from its very inception. No questions. Move on. Nothing to see here....except the witnessing of the "slow un-doing of our rights" as foretold by a President in our not so distant past, JFK.

Here's the bottom line:

PAPER BALLOTS SHOULD BE THE ONLY KIND OF LEGAL BALLOT.
ELECTRONIC VOTING SHOULD BE OUTLAWED. PERIOD.
FROM:
RayA @ REAL CONSERVATIVES

...a REAL CONSERVATIVE

http://tpartyus2010.ning.com/profiles/blogs/swindle-the-vote


The democrat party, in the 2 0 2 0 election,
ran a Gypsy-style group con-job
analogous to the "BIG STORE" Scam
found in the annals of classic Gypsydom.
It goes like this:
The "Big Store" con

:
The Big Store is a technique for selling the legitimacy of a scam and typically involves a large team of con artists and elaborate sets. Often a building is rented and furnished as a legitimate and substantial business.[63] The "betting parlor" setup in The Sting is an example.
In 2014, a rural co-operative in Nanjing, China constructed an entire brick-and-mortar fake bank with uniformed clerks behind counters; the unlicensed bank operated for a little over a year, then defaulted on its obligations, swindling Chinese savers out of 200 million Chinese yuan.[64] Onecoin is a European example.
For a complete list of scams and cons, look here:  
https://en.wikipedia.org/wiki/List_of_confidence_tricks
Uncle Joe Biden was the patriarch
of this elaborate 2020 Election Scam.
Don't be fooled into losing your country.
They cannot be allowed to get away with it.
The entire printable lawsuit
filed in Georgia
by Sidney Powell
can be viewed & downloaded
by 
CLICKING HERE:
COMPLAINT-CJ-PEARSON-V.-KEMP-11.25.2020.pdf
~~~~~~~~~~~~~~
IF YOU REALLY LEARNED SOMETHING
...THEN,
CLICK HERE:
http://tpartyus2010.ning.com/profiles/blogs/stealing-our-liberty-wi...
.
.
.