.
MEET MR. MASS SHOOTER
( TOO LATE FOR YOU, THOUGH )
" I am sick of this "gun control" talk.
I have not heard one politician say how they plan to take guns from criminals
... JUST LAW-ABIDING CITIZENS! "
.
ABSOLUTE TRUTHS:
Here's some perspective, comprende?
The RIGHT to bear arms is....a RIGHT, not a privilege      DRIVING A CAR is a PRIVILEGE, ... not a Right
                                                                                                   ...Its not in the Bill of Rights

Government does not have the RIGHT to regulate guns   Ownership of Guns is a CONSTITUTIONAL
                                                                                                      RIGHT
Government has the RIGHT to regulate Tobacco             There is no "right to Smoke" in the Constitution
Consumption of Alcohol is a Natural Right                        Government TAXES alcohol consumption
PROHIBITION was made CONSTITUTIONAL                    Prohibition was repealed by the 21st amendment
by the 18th Amendment
MURDER is a Capital offense                                             ABORTION is Murder


MURDER: "The unlawful premeditated killing of one human being by another."
ABORTION: The LAWFUL, premeditated killing of one human being by another.
 ...is abortion a better way to die than murder?  
Who gave ANYONE the right to kill anyone else?
There is no  " Right to Choose "  in the Constitution.
When are Americans going to stop
adopting liberal, communist propaganda
as their gospel Truth?
REMEMBER THE:
" War on Poverty " ?
" War on Drugs " ?
???
...yeah, sure
None of it works.
...all these Liberal "Peacenicks"
should have a
"War on War"
if they really want peace.
How about...
"Black Lives Matter" ?
" The 1 percent " ?
" Occupy Wall Street " ?
...its all
leftist
BULLSHIT
DEMOCRAT-
"D" stands for "death"
The Party that condones Mass Murder
( ABORTION - 60,000,000 innocent children slaughtered, AND COUNTING )
Wonder why there seems to be a DEATH CURSE on America?
...look no further than the Democrat ( communist ) Party
~~~~
2017...Democrat shoots up Republican congressional baseball team
"AGITPROP"
_______________________
Lets settle the "Gun Issue"
here and now,
once and for all:
The Second Amendment
"A well regulated Militia, being necessary to the security of a free State, the right of the people to keep and bear Arms, shall not be infringed."
~~~~~~~~~
Liberals do not want citizens to "keep and bear arms".  It defeats their grand schemes and dreams of total control and domination of a defenseless, unarmed citizenry and their economy ( "From each according to his ability, to each according to his need" - in other words, COMMUNISM )
Liberals HATE Liberty, except theirs.
Conservatives are correct in saying that the Right to Bear Arms is an inalienable Right written into the Constitution, and can only be abridged by a Constitutional Amendment, ( like Prohibition, and the subsequent repeal thereof. )
HERE'S THE SOLUTION
TO THE
MASS SHOOTER SCOURGE ON OUR NATION:
Mass Shooters rely on the vulnerability of people, especially in crowds, like schools, shopping centers, churches, any place where a large number of people gather, un-armed.
There are already on the books approximately 128,000 laws that deal with regulation of firearms. Mass Shooters routinely ignore all of those laws. They know it only takes a few minutes, even seconds, to satisfy their blood thirst. With the right kind of ordinance, they know they can inflict maximum misery on innocent human beings in very short order. There is little time for 911 to respond.  
None of this works:  
Gun Free Zones, 
Gun registration, 
Gun confiscation, 
Background Checks, 
More Legislation, 
"RED FLAG" Laws
Calling 911
FACT: A cell phone with 911 capability only announces a new massacre. Its all over by the time the police arrive.
FACT: 9mm Semi-automatic pistols in the hands of  a Mass Shooter's intended victims will instantly kill the Mass shooter. That means he'll be dead at the scene of the crime, thereby saving the taxpayers the expense of prosecuting him, and the Medical costs and economic misery he would have otherwise inflicted on scores, if not hundreds of innocent victims.
WHAT DOES WORK:
Armed, law- abiding Citizens
Concealed Carry
Gun Safety Training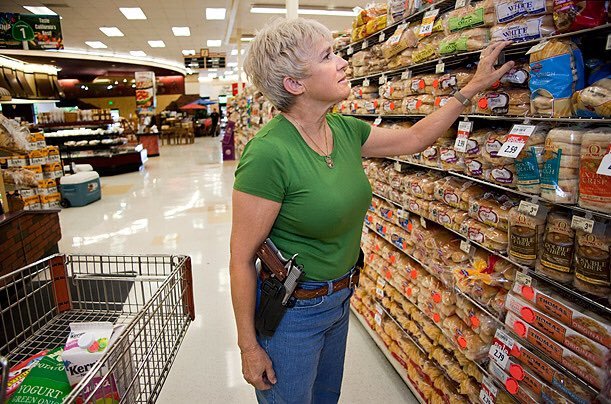 ( GO IN PEACE )
If the government can provide arms, tanks, rifles and planes to millions of soldiers, they can afford to subsidize, with a tax credit equal to the dead cost, Citizens, who are properly trained in Gun safety, who carry concealed weapons, with the cost of one 15 round Glock 9mm semi-automatic pistol and 3 extra magazines.
( ABOUT $500.00 )
...what's one innocent human life worth?
Just ask yourself this: If you are in a vulnerable situation with a mass shooter shooting everyone in sight, would you rather have a Cell phone to call 911 with? ...or a 15 round semi-automatic pistol so you can just shoot the sonofabitch?
OBAMAPHONE
( the federal government provides free cell phones now along
with approx $200 per month in food stamps, THERE FOR THE ASKING )
The Government doesn't need to confiscate or register firearms. It doesn't need to do background checks on law-abiding citizens who are exercising their Right to Bear Arms under the second amendment.
All it needs to do is to issue HUNTING LICENSES to involved, law-abiding responsible Citizens along the following lines. They can do background checks on volunteers who apply for the LICENSE...not the firearm. This does not interfere with the second amendment,  Any seriously concerned citizen who wishes to be deputized in this manner should not mind a background check to obtain the license, and would not mind the required Gun Safety course that comes with a concealed carry permit.
HERE IS THE PROPOSED "HUNTING LICENSE for MASS SHOOTERS".
I'll let wiser minds - you, the readers of this piece, work out the finer details of this proposal - you, the readers of this piece, should COMMENT BELOW and SHARE THIS ARTICLE with all of your contacts.
READ and COMMENT:
Lock and Load
...Wouldn't it be nice to have MILLIONS of well-trained,
law abiding deputies embedded in the general population,
standing ready, as sentinels, in case of Mass Shooter incidents?
...If  you're reading this post then
you're a Member in good standing
here at REAL CONSERVATIVES
COMMENT BELOW
and
Share this, everywhere
CLICK HERE:
http://tpartyus2010.ning.com/profiles/blogs/hunting-license-for-mas...
Members and Non-Members:
SHARE THIS!
on your eMail, Facebook and Twitter