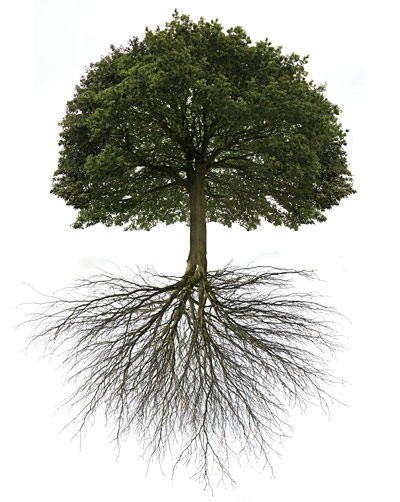 They want to UPROOT our culture...
America's roots are under attack...as if there is a spell, an evil spell, casting its dark shadow across our fruited plains. America's majesty is being starved of the vital Light of Liberty upon which her precious freedom depends.
The roots of our Liberty Tree are deep, with many branches, a mirror image of the tree which stands proudly above the ground. They are:
• Her CONSCIENCE...the certain knowledge of the Right and the Wrong
• Her FAITH...the certain belief in Christ's teachings of God's word
• Her ENERGY...those natural, abundant resources flowing, like a river, underground
• Her WISDOM...as a People, rooted in values, from which her moral strength derives
• Her JUSTICE...derived from that righteousness, constitutionally assured to all
• Her STRENGTH...a military that stands against tyranny, resolutely and globally
• Her FAMILIES...that nurture and replenish her Nationhood across generations
• Her UNITY...that makes her the most formidable nemesis of evil in history
• Her HERITAGE...the traditional, collective knowledge of her history in Nationhood
• Her NATURAL HUMAN RIGHTS...honored in, and guaranteed by her Bill of Rights
America's enemies covet those values...and hate them. Historically, those enemies had been glaring, with jealousy, from afar. Our borders have stood, as ramparts, against this evil. Ramparts, that currently, are increasingly ever more crumbling from damage inflicted from within, at the hands of enemies that have infiltrated the very heart of America, the very seat of our government, and our national soul, conveying a false image, and creating the illusion that we are a Nation in decline.
These enemies have systematically attacked
• our Bill of Rights;
• our Heritage with derision;
• our Unity with racial strife;
• our Families with a twisted view of Holy Matrimony;
• our Military, with a perverted agenda;
• our sense of Justice with corrupt judges;
• our Wisdom, with a bizarre academic rigor, Common Core;
• our Energy, with imaginary fears of vague pollutions;
• our Faith, by outlawing mention of Our Creator with political correctness;
• and foremost, our CONSCIENCE, by re-defining the murdering of innocent babies as a mere choice.
America, the time has come to replenish our Roots with the life-giving water of Truth. I hereby propose that we go forth and proclaim again the Truths that made us great in our beginnings, and a Most Favored Nation in the eyes of our Creator. We must re-claim our roots, one branch at a time.
Truth, and only Truth, will save us from the Liberal Lies that have infected this Nation for now too long. The TRUTH will set us free, again. It will restore America to its rightful Glory. Only fools believe lies. And fools were never worthy of a Nation, or a Republic. The deception must stop, here and now. The Truth must prevail. The Truths that made us great must march, onward!
Let us begin by proclaiming a simple truth: That abortion is not a "choice", it is murder. That every Human BEING has the fundamental Right to exist...to BE ! ...even the unborn, our Posterity.
It is a matter of CONSCIENCE...we will deal with the other root branches in later campaigns.
Arm yourselves with Truth and proclaim it throughout the land!
Let Freedom reign!
SPREAD THE WORD!
May God Bless America,
once again.
Your Uncle Sam
CLICK HERE:
http://tpartyus2010.ning.com/forum/topics/life-support-for-babies

...and SHARE this,
far and wide