.
Stop The Steal!!!
...PRESENTING
The Smoking Gun Video:
FROM JENNA ELLIS, TRUMP LEGAL TEAM:
Her tweet shows an entry recorded with 225,000 votes for Biden with less than 100,000 for President Trump.  This is when a major portion of the steal took place in Georgia – which is about the same time that the mother-daughter team of Trump haters kicked all Republicans out of the ballot counting room in Atlanta and started tabulating votes on their own after grabbing ballots out from underneath the table.
THE GRAPH SPIKE @ 3:43 A.M. ON NOVEMBER 4, 2020
CLEAR, BEYOND CIRCUMSTANTIAL, NON-COINCIDENTAL
EVIDENCE OF BALLOT STUFFING
IN GEORGIA: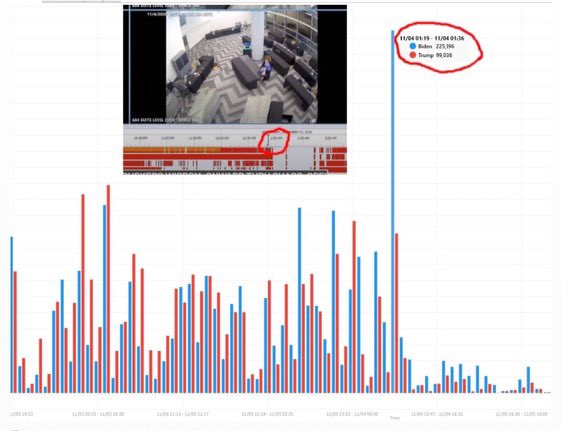 Dear RayA...
...This may be the most important email I ever send you.

I want to provide an update on our ongoing efforts to expose the tremendous voting irregularities that took place during the ridiculously long November 3rd Election.

As President, I have no higher duty than to defend the laws of the Constitution of the United States.That is why I am determined to protect our Election system - which is under attack - but I cannot do it alone. I need YOUR HELP.
In the days and weeks after the Election, we witnessed an orchestrated effort by the Left to name Joe Biden as the winner - while many key states were still counting votes. It was madness.
 
Bottom line, we are going to defend the honesty of the vote, ensuring every LEGAL ballot is COUNTED, and that NO ILLEGAL ballot is counted. 

This is about more than just honoring the votes of 74 MILLION Americans who voted for me. It's about ensuring that Americans can have faith in this Election, and in all future Elections.
.
S O S   ...  //   ...
Save Our Ship !!!
S  T  S  ... //  ...
Stop The Steal  !!!
CLICK HERE:
http://tpartyus2010.ning.com/profiles/blogs/trump-n-2020-is-now-20-...
*****
Trump Invokes Foreign Interference Provision of His 2018 E.O., Authorizing Military Response to Cyber-Warfare
(Natural News) Ask yourself this question: What was the purpose of yesterday's White House speech about election fraud and vote rigging?

If you think it was all about Trump communicating to the people, think again. This speech was really about Trump communicating with Chris Miller and the DoD about foreign interference in the U.S. election while laying out the key national security justifications that are necessary to invoke what I'm calling the "national security option" for defending the United States against an attempted cyber warfare coup.

In this article, I present details from 10 USC, Section 394. Subtitle A, Part 1, Chapter 19, "Authorities concerning military cyber operations" as well as National Security Presidential Memoranda (NSPM) #13, covering "offensive cyber operations." See below.

In today's Situation Update (Dec. 3rd), I lay out all the details of how Trump just invoked the legal framework — and national security provisions — necessary to allow the Secretary of Defense (Chris Miller) to activate military processes that lead to a tactical takedown of domestic enemies and active traitors.

Here's the full podcast for Dec. 3rd. Tomorrow's podcast (Dec. 4th) will provide even more details on the NSPM and other efforts put in place by Trump's DOD intelligence team to trap the Democrats in acts of treason and warfare against America.
Brighteon.com/85eb594a-046e-48b7-989d-25a1d868ba67


Brighteon.com/85eb594a-046e-48b7-989d-25a1d868ba67
https://dailyheadlines.com/trump-invokes-foreign-interference-provi...)
CLICK HERE:
http://tpartyus2010.ning.com/profiles/blogs/trump-n-2020-is-now-20-...
.
.
.
.